In 1939, as a little girl, Anna Faith Jones was in the audience at the Lincoln Memorial when Marian Anderson -- barred from singing at Constitution Hall -- sang before thousands. That may have been when Anna first understood the transformative power of art. Anna went on to serve as President of the Boston Foundation from 1985 to 2000. Today, a fund established in her honor as part of the Permanent Fund for Boston is helping Carlos Pedrero and Kevin Chan inspire social change through the Boston Children's Chorus.
Boston Foundation Program Officer F. Javier Torres: "The Boston Children's Chorus is a wonderful example of the type of arts organization that the Boston Foundation likes to support. They help develop young children and inspire them through high artistic quality choral performance."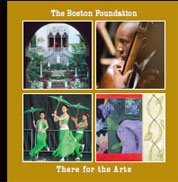 Read There for the Arts, the fourth in a series of publications featuring the many times the Boston Foundation and its donors have played a major role in supporting innovative ideas and organizations. We believe that the arts are an essential component of a vibrant and vital community. When they are woven into the fabric of community life, artists and cultural organizations are stronger and neighborhoods and residents thrive. We invite you to read about some of the donors and organizations that have contributed to making Greater Boston one of the most culturally rich cities in the world.