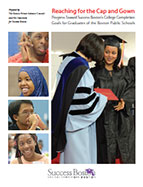 BOSTON – A new report, prepared for Mayor Martin J. Walsh and the Success Boston college completion initiative, shows a remarkable increase in both the percentage and the number of Boston Public Schools graduates who complete college within six years. The report also examines college completion for students with Success Boston coaches, a major intervention launched by the Boston Foundation and its partners, including the Boston Public Schools, in 2009.
Success Boston, a citywide multi-sector college completion initiative, was launched in 2008 in response to a report that found that only 35% of the BPS Class of 2000 graduates who enrolled in college earned a degree within seven years of graduating high school. The initiative is guided by the Boston Public Schools, the Boston Foundation, UMass Boston, Bunker Hill Community College, and the Boston Private Industry Council, along with dozens of colleges, universities, and nonprofit organizations. Among the initiative's ambitious goals was pushing members of the BPS Class of 2009 to a 52%six-year college completion rate.
Today's report, "Reaching for the Cap and Gown: Progress Toward Success Boston's College Completion Goals for Graduates of the Boston Public Schools," finds that the six-year college completion rate of first-year college enrollees from the BPS Class of 2009 was 51.3%—within one percentage point of the 52% goal set in 2008.¬Equally impressive is the gain in the number of BPS graduates completing college within six years of high school graduation—1,314 from the Class of 2009, compared to 735 from the Class of 2000, the equivalent of a 79% increase. The study also finds that college completion, at 54.7%, is even higher than the goal for students who enrolled in the fall immediately after graduating from high school.
"The Success Boston initiative is making a measurable difference in the number of Boston Public Schools graduates moving into and through higher education," said Boston Mayor Martin J. Walsh. "Partnering with our local institutions of higher education, employers, and philanthropy is precisely what is needed to provide the educational opportunities to our youth and connect them to the workforce to maintain economic growth and opportunity."
Though Success Boston was formed in partnership with former Boston Mayor Thomas M. Menino, Mayor Walsh's office has continued and strengthened the partnership, along with the core members: The Boston Foundation, where Success Boston is housed and administered, UMass Boston, Bunker Hill Community College, the Boston Private Industry Council, and Boston Public Schools.
Paul S. Grogan, President and CEO of the Boston Foundation and a co-creator of Success Boston, agreed with Walsh's assessment, pointing to the fact that just over 44%of 2009 BPS high school graduates who received coaching through Success Boston completed college within six years, compared to 36% of high school graduates who did not participate in coaching. Transition coaching—a signature intervention of the initiative—pairs students in the last year of high school with adult coaches who work with them through the first two years of college. Success Boston coaches are in equal parts guidance counselors, academic advisors, parental figures, and drill sergeants, whose job it is to help their students get over multiple hurdles to complete college.
"One immediate takeaway from this report is that Success Boston coaching program is a very promising strategy," Grogan said. "The strategy appears to be particularly effective for young men of color and for community college students. It is no coincidence that as local students complete their college studies, major local employers, particularly those that drive the innovation economy, will be recruiting and hiring more Boston Public Schools graduates."
Coached students from all but one of the racial/ethnic subgroups have higher completion rates than non-coached students at the top seven colleges that serve Success Boston students. Black students, especially young males, who participate in coaching at these colleges graduate at much higher rates: 53.8% of coached Black males complete college compared with 24% for their Black male peers who were not coached.
Coached and non-coached students who initially enrolled in four-year colleges generally complete college at similar rates of about 60%, which is also similar to the national six-year completion rate of 62% for the 2009 cohort. However, Success Boston coached students have an edge when they attend two-year colleges: 35% of Success Boston coached students and 23.8% of non-coached students completed within six years.
These findings are encouraging, as evidenced by the fact that the program's participants are enrolling in and graduating from college at higher rates than their nonparticipant counterparts in most categories. Those students who are most at risk of not completing college— Black and Hispanic students— are showing real gains in enrollment and college completion. Ultimately, this report not only reflects the power of a city willing to come together to meet a serious challenge but also suggests that, given the necessary supports offered through coaching, the potential for the majority of Boston students to succeed in college and go on to contribute to our region's economy is truly within our reach.
"The Success Boston initiative indicates that coaching is a promising practice, one that Bunker Hill Community College has embraced and integrated into the core success strategies of our college," commented Pam Eddinger, President of Bunker Hill Community College.
Chancellor Keith Motley, a co-creator of Success Boston whose UMass Boston campus has been a destination spot for Success Boston participants had this to say: Thirty-seven colleges and universities, including UMass Boston, joined Success Boston. In doing so, they agreed to analyze and track the persistence of Boston Public School students enrolled at their institutions and to implement strategies to increase their completion rates. A variety of new initiatives have been undertaken by institutions to help more students succeed in college. These include increasing options for earning college credit while still in high school, increasing institutional funding for need-based financial aid, accelerating students' progress through developmental courses, providing navigational coaching, and enrolling students in learning communities where they are co-enrolled in classes with students with similar interests, have intrusive advising, academic support, and community building activities. In addition, colleges and universities are increasing opportunities for experiential learning, credit-bearing and paid internships, mentored research experience, study abroad, and service learning, while implementing new policies to keep students from falling behind.
Superintendent Tommy Chang of the Boston Public Schools said, "The results shown in the Success Boston report exemplify how community partners working together can help drive meaningful results for our young people. Positive coaching relationships are having a real, tangible impact on our students, and I look forward to the work we have ahead to achieve even higher rates of success in the years to come."
Ken Montgomery, Chief Operating Officer at the Federal Reserve Bank of Boston and Chairman of the Boston Private Industry Council, added, "This report reflects the power of a city willing to come together to meet serious challenges. It shows that, given our collective efforts, the vast majority of Boston students can succeed in college and go on to contribute to our region's economy."
****
About Success Boston | Success Boston is Boston's citywide college completion initiative. Together, the Boston Foundation, the Boston Public Schools (BPS), the City of Boston, 37 area institutions of higher education, led by UMass Boston, and local nonprofit partners are working to double the college completion rate for students from the BPS. Success Boston was launched in 2008 in response to a longitudinal study by Northeastern University's Center for Labor Market Studies, which showed that only 35% of those BPS graduates who had enrolled in college ever completed a postsecondary certificate, Associate's or Bachelor's degree within seven years of graduation from high school.
Together, the partner organizations implemented a three part strategy: getting ready, getting in, and getting through—to ensure Boston's young people are prepared to meet the challenges of higher education and achieve a degree that will allow them to thrive in the workplace. Recently, Success Boston has expanded its mission to include "getting connected" to the labor market upon graduation from college. In 2014, the Boston Foundation received a grant from the Corporation for National and Community Service to expand this effort. This $6M Social Innovation Fund award gives the Foundation the resources necessary to expand Success Boston's transition coaching model from serving 300 to 1,000 students annually from the Boston Public Schools classes of 2015, 2016 and 2017.
About the Boston Foundation | The Boston Foundation, Greater Boston's community foundation, is one of the largest community foundations in the nation, with net assets of some $1 billion. In 2015, the Foundation and its donors paid $135 million in grants to nonprofit organizations and received gifts of $123 million. In celebration of its Centennial in 2015, the Boston Foundation launched the Campaign for Boston to strengthen the Permanent Fund for Boston, the only endowment fund focused on the most pressing needs of Greater Boston. The Foundation is proud to be a partner in philanthropy, with more than 1,000 separate charitable funds established by donors either for the general benefit of the community or for special purposes. The Boston Foundation also serves as a major civic leader, think tank and advocacy organization, commissioning research into the most critical issues of our time and helping to shape public policy designed to advance opportunity for everyone in Greater Boston. The Philanthropic Initiative (TPI), an operating unit of the Foundation, designs and implements customized philanthropic strategies for families, foundations and corporations around the globe. For more information about the Boston Foundation and TPI, visit tbf.org or call 617-338-1700.