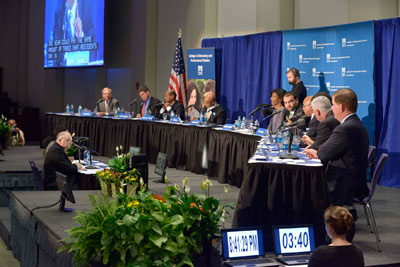 Ten of the 12 candidates vying to be mayor of Boston aired their views on housing, education and the growing divide between rich and poor at a Sept. 19 candidate forum co-sponsored by the
Boston Foundation
,
WBUR-FM
, and the
University of Massachusetts Boston's McCormack Graduate School and College of Advancing and Professional Studies
.
With more than 50 percent of renters in Boston paying more than 30 percent of their gross income for housing and 21 percent of residents living below the poverty line, the candidates all stressed the need for more housing that low- and moderate-income families can afford. "Market rate is synonymous now with luxury," said John Connolly. "It's pricing everyone out of the city."
The candidates voiced approval for transit-oriented development, especially along the Fairmount Line, which has four new stations in Dorchester, Roxbury and Mattapan, and many stressed the importance of planning. "We need to build and get to a city that houses 1 million by 2025," said Michael Ross. John Barros said the city needs "more than just a low-income strategy," and noted that every neighborhood should have a mix of households.
Dan Conley noted that he has embraced Mayor Thomas M. Menino's call for 30,000 more units of housing by 2025 and said, "It's an imperative for our economy to build more moderate workforce housing" near mass transit. Charlotte Golar Richie cited the 18,000 new units of housing developed in the city when she was city housing chief, and noted that it will be important to preserve the soon-to-expire "affordable" status of many of those units.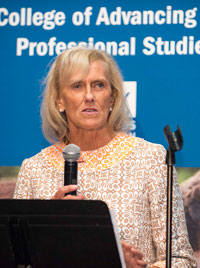 When asked what the city and the mayor can do to ensure that the 30 percent of Boston schoolchildren who live in poverty can learn and thrive, Bill Walczak noted that "Schools need to act more holistically – they need to be looking at things from a completely different perspective." Health care, social services and good food are needed, he said.
John Connolly called for "fully staffed social-emotional health support services for every student" while Barros said, "It takes more than a school to make sure that we can meet the challenges of poverty" and called for the city to create healthy, strong neighborhoods, which would ensure that "we don't put all the ills of poverty at the feet of the teachers." Marty Walsh stressed the importance of having a mayor who's "tough" and the importance of good jobs, while Arroyo said he was "the only candidate who has released a plan for how we create pathways out of poverty and into the middle class."
When asked how they, as mayor, would help better prepare the hundreds of Boston Public Schools graduates who enroll in Roxbury or Bunker Hill community colleges each year for success in college and future employment, the candidates had a variety of proposals. Connolly said too many students have to take remedial classes and that the school district needs to do better, but he also felt that students could benefit from real-world experience in internships. Ross pushed for a better vocational-technical high school where parents can learn in the evenings. Walczak said the two community colleges were "failing" and that their curriculum needs to be better aligned with the needs of local employers. Walsh proposed partnering with the business community to identify their workforce needs and "set up a training program" in high schools and community colleges.
The debate became animated when the subject of a proposed casino at Suffolk Downs was the topic, with Walczak—who opposes casino gambling—saying he was amazed he was the only candidate willing to take a firm stand. "This is going to change the culture of Boston forever," he said, "I think it's important that all of us take a stand on it."
Conley retorted, "The citizens of Boston do not want to be told how to think." When asked whether all city residents should be able to vote on whether or not to approve a casino or if the residents of East Boston should be the deciders, Conley, Barros, Walczak and Charles Yancey wanted a citywide vote, while Connolly, Arroyo, Walsh, Ross and Richie were in favor of East Boston alone.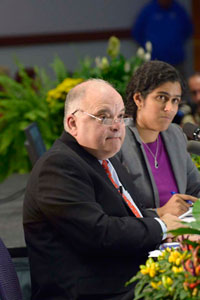 The candidates also discussed their views on neighborhood crime, with three candidates (Arroyo, Conley, Walczak) vowing to keep the current Police Commissioner, two (Clemons, Yancey) saying they would let him go and the other six undecided or wanting to study the issue further.
"The most violent thing in our neighborhoods is called poverty," said Arroyo, calling for community policing. Yancey said, "Trayvon Martin should have taught us that we should value the lives of everyone and not presume that if you're a young African American teenager you're a criminal." All of the candidates noted the need for a more diverse, culturally sensitive police force and women and people of color in top leadership.
UMass Boston Chancellor J. Keith Motley opened the forum and Mary Jo Meisner, the Boston Foundation's Vice President for Communications, Community Relations and Public Affairs made introductory remarks. Bob Oakes and Meghna Chakrabarti of WBUR were moderators.
Visit the Boston Indicators blog to learn more about the data behind the Measure of Poverty and Economic Dynamism or Widening Inequality?