A report on the impact of the college completion initiative Success Boston was released at forum held at the Boston Foundation on June 13, 2016. The report shows a remarkable increase in both the percentage and the number of Boston Public Schools graduates who complete college within six years.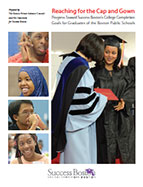 Entitled Reaching for the Cap and Gown: Progress Toward Success Boston's College Completion Goals for Graduates of the Boston Public Schools, the report from the Boston Private Industry Council and Abt Associates addresses the college completion rates for graduates of the Boston Public Schools. The report tracks college completion outcomes for the BPS Class of 2009, the first graduating class to benefit from Success Boston's cross-sector partnership, which works to get students ready, in, and through college, and then connected to careers. The report tracks the college enrollment and completion experiences of the entire BPS Class of 2009 through its first six years after high school, as well as those students who received Success Boston Coaching in their first years of college.
The report and its findings were presented by Tamara Linkow, Senior Associate, Abt Associates and Joseph McLaughlin, Research and Evaluation Director, Boston Private Industry Council. A panel discussion moderated by Elizabeth Pauley, Senior Director, Education to Career, at the Boston Foundation, included: Tommy Chang, Superintendent, Boston Public Schools; Rahn Dorsey, Chief of Education, City of Boston; Pam Eddinger, President, Bunker Hill Community College; Paul S. Grogan, President & CEO, the Boston Foundation; Kenneth C. Montgomery, First Vice President and COO, Federal Reserve Bank of Boston; and J. Keith Motley, Chancellor, University of Massachusetts Boston.
Forum Presentations:
Tamara Linkow, Senior Associate, Abt Associates
Joseph McLaughlin, Research and Evaluation Director, Boston Private Industry Council