2013 marks third class of Fellows to benefit from generous gift by renowned ceramicist, Brother Thomas Bezanson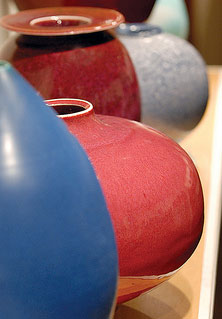 Boston – The Boston Foundation today announced the six winners of the 2013 Brother Thomas Fellowships, "no strings attached" $15,000 awards designed to support talented artists making significant contributions to their community through excellence in their craft. These biennial fellowships are made possible by the Brother Thomas Fund, established at the Boston Foundation in 2007 to honor the legacy of Brother Thomas Bezanson, a Benedictine monk and world-renowned ceramic artist. Fellows and nominees will be celebrated on September 25 at a special event hosted at the Boston Society of Architects on Boston's waterfront and Innovation District.
The Brother Thomas Fund, which has been supplemented by discretionary grants from the Boston Foundation's Permanent Fund for Boston, was established to support artists at critical points in their careers. Fellowships are granted biennially through a multi-disciplinary nomination and review process led by F. Javier Torres, Senior Program Officer at the Boston Foundation. The Class of 2013 is the third class of Brother Thomas Fellows.
"The Brother Thomas Fellowships are a unique and wonderful legacy for Brother Thomas, and a recognition of the many challenges artists face as they pursue their careers," said Paul S. Grogan, President and CEO of the Boston Foundation. "Artists play a powerful role in the lifeblood of our communities – and these awards provide support and opportunity for the recipients to advance their work."
Brother Thomas was a pioneer in pottery who lived for much of his adult life as a lay member of religious communities—first a monastery in Vermont and later a convent in Erie, Pennsylvania—and created works that are currently included in over 80 museums and a host of private collections. The Museum of Fine Arts, Boston owns 16 of his works and was one of the first major museums to recognize the extraordinary quality of his ceramic art. Other ties to Boston include a long-term relationship with Bernard and Suzanne Pucker, owners of the Pucker Gallery on Newbury Street, which represented Brother Thomas.
The 2013 Brother Thomas Fellows are:
Born in Lahore, Pakistan, Ambreen Butt is a multimedia visual and installation artist. Having spent years mastering the techniques of traditional Indian and Persian Miniature Painting, her recent multidimensional work incorporates the intricate and decorative patterning which characterizes this discipline through the use of both text and repeated objects. Ambreen received her BFA at the National College of Art in Pakistan and her MFA at Massachusetts College of Art and Design in Boston. Her work has been exhibited nationally and internationally, including at the Museum of Fine Arts, Boston, Institute of Contemporary Art, Boston, Brooklyn Museum, New York, and the DeCordova Sculpture Park and Museum.
Choreographer Lorraine Chapman founded Lorraine Chapman The Company, a leading contemporary dance company in Boston, in 2002. She has been invited to join the Gallery at Pentacle in New York, an opportunity which will be made possible through the support of a Brother Thomas Fellowship. This opportunity will promote her work on the national stage, and allow Lorraine to focus on the generation of new work. Through her company, Lorraine has created an apprenticeship program to support many of her young students at both the Ballet Arts Centre of Winchester and The Boston Conservatory. Lorraine trained in both Boston and Canada, has performed extensively across New England, and was the 2011 recipient of a Boston Center for the Arts Dance Residency.
Sean Fielder began tapping at the age of 3 at the Roxbury Center for the Performing Arts. At 18 he participated in a program in New York City called Funk University. During this time Sean was both featured in Missy Elliot's video "The Rain" and was selected for the national touring company of Savion Glover's Tony Award winning show, Bring in Da Noise Bring in Da Funk. Sean started the tour as an understudy and quickly worked his way into the lead role. Returning to Boston, Sean founded Boston Tap Company in October 2007. His three companies have performed all over the east coast including at MASS MOCA – Dianne Walker and Friends, Jacob's Pillow – Inside/Out Summer Series, The New England Urban Music Awards, Velocity Magazine Awards in Washington DC, DC Tap Festival – Youth Showcase and NY City Tap Festival – Tap Youth Future Concert.
Ekua Holmes is a lifelong Boston resident and collage artist. In her work, Holmes takes unexpected items, and creates images that reflect the community she grew up in. Memory plays a central role in her art making as she recalls being nurtured by a loving and supportive community of Mothers, Fathers, Aunts, Uncles, Neighbors, Teachers and Friends. Through her work, she honors their memory by bringing them to life with torn and cut shapes of color and texture, found objects and fading ephemera. Ekua studied at the Maryland Institute College of Art/ Mount Royal School of Interdisciplinary Arts and earned her BFA from Massachusetts College of Art and Design. Her work has been exhibited extensively across New England, and was featured on the cover of the Boston Foundation's annual report in 2009.
Matti Kovler is a Russian born Israeli composer, whose works draw on many contrasting musical and textual sources. Traditional religious chants - from Gregorian to Hassidic - are juxtaposed with modern music theater and jazz. Sometimes these widely scattered sources bring up surprising and fascinating parallels - the striking similarity, for example, between Hassidic and Native American chants, that appear in his A Jew Among the Indians, in which the music illuminates the tragic plights of these two embattled peoples. His work has been performed in Israel, Europe and the United States by groups including the Israel Philharmonic Orchestra, Boston Modern Orchestra Project, the Metropole Orchestra (Netherlands), Fox Studio's Symphony Orchestra, the Ariel String Quartet (Israel) and the Dinosaur Annex New Music Ensemble (Boston). Matti founded the Matti Kovler Ensemble in 2010 which specializes in new Jewish Music Theater, and completed his doctoral studies at the New England Conservatory in 2013.
Megumi Naitoh, a Japanese born ceramic artist, has been exploring Roman mosaics and their narrative depiction of daily life for the past decade. The tightly configured grid structure of the digital pixilated portraits is contrasted against the more free-formed Roman mosaic aesthetic. Much of her work explores the relationship between technology and our lives. Associate Professor of Art at Emmanuel College, Megumi teaches ceramics as well as 3D foundation courses. She earned her MFA at the Massachusetts College of Art and Design.
Winners of the Brother Thomas Fellowships were selected by a panel of leaders in the Greater Boston community from dozens of nominations submitted by more than 20 nominators. The Boston Foundation would like to acknowledge and thank all those who took part in the selection process.
The 2013 Brother Thomas Panelists:
Maure Aronson, Founder, Executive and Artistic Director, World Music.
Sandra Dong, Native American Graves Protection and Repatriation Act Coordinator at the Peabody Museum of Archaeology and Ethnology, Harvard University.
Beth Ann Gerstein, Executive Director, The Society of Arts and Crafts.
Cecilia (Ceci) Méndez, Director of the Center for Art and Community Partnerships, Massachusetts College of Art and Design.
Kaamila Mohamed, Programs Administrator, The Theater Offensive.
Beverly Morgan-Welch, Executive Director, Museum of African American History.
Liz Munsell, Assistant Curator of Contemporary Art & MFA Programs, Museum of Fine Arts, Boston.
Richy Peña, internationally recognized and critically acclaimed music producer currently signed to Warner Chappell Music as a songwriter and Producer.
F. Javier Torres, Senior Program Officer, the Boston Foundation.
The 2013 Brother Thomas Nominators:
Anabel Vázquez, Co-Founder/Curator, Discordia Films, Curator, Villa Victoria Center for the Arts.
Angela Cunningham, Ceramicist.
Anulfo Baez, Managing Editor, Big Red and Shiny.
Aziza Robinson-Goodnight, Curator and Co-Manager, Gallery Basquiat.
Chandra Ortiz, Artist and Educator, Dieppa Studio.
Mark Churchill, Dean Emeritus, Preparatory and Continuing Education, New England Conservatory.
Dave Bowen, Artist and Archaeologist.
David Howse, Executive Director, Boston Children's Chorus.
David Valdes-Greenwood, Playwright and author.
Dawn Spears, Program Manager, Native Arts, New England Foundation for the Arts.
Joanna Marinova, Co-Director, Programs and Operations, Press Pass TV.
Leslie Epstein, Director of Creative Writing Program, Boston University.
Naoko Matsumoto, Potter and Technical Assistant, Mass College of Art and Design.
Rania Matar, Photographer, Rania Matar Photography.
Shaumba-Yandje Dibinga, Founder/Artistic Director, OrigiNation Cultural Arts Center.
Shawn LaCount, Artistic Director, Company One Theatre.
Veronique Le Melle, President & CEO, Boston Center for the Arts.
Derek Lumpkins, Executive Director, Discover Roxbury.
Klare Shaw, Senior Advisor to Superintendent, Boston Public Schools.
Lois Roach, Lecturer in Theatre Studies, Wellesley College.
Sara Archambault, Program Director, LEF Foundation.
Silvina Mizrahi, Art Instructor, Museum of Fine Arts.
Stephanie Scherpf, Executive Director & Co-Founder, Jean Appolon Expressions.