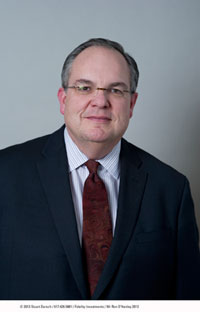 Boston – The Boston Foundation today publicly announced the addition of Ronald P. O'Hanley to the Boston Foundation Board of Directors, effective October 3, 2013. Mr. O'Hanley is President of Asset Management for Fidelity Investments, a leading provider of investment management, retirement planning, portfolio guidance, brokerage, benefits outsourcing and other financial products and services to more than 20 million individuals, institutions and financial intermediaries. He is also a member of Fidelity's Executive Committee.
"The Boston Foundation is truly fortunate to have someone of the caliber of Ron O'Hanley join our Board," said Michael Keating, Esq., who serves as chair of the Board of Directors. "Ron has demonstrated an extensive commitment to Greater Boston and some of its most revered cultural and nonprofit institutions during his career, and will serve as a trusted voice of wisdom to the Board as we move into the Boston Foundation's second century."
Mr. O'Hanley is responsible for the oversight of all Fidelity Asset Management organizations, including Fidelity Management & Research Company (FMRCo), Pyramis Global Advisors and the Asset Allocation teams, with a combined total of $1.8 trillion in assets under management.
Prior to joining Fidelity, Mr. O'Hanley served as president and chief executive officer of BNY Mellon Asset Management in Boston, and vice chairman of Bank New York Mellon Corp. Before joining Mellon in February 1997, he was with McKinsey & Company, Inc., from 1986 to 1997 and was elected a partner in 1992.
Mr. O'Hanley serves as chairman of the Retirement Security Council for the Financial Services Roundtable, and the Boston Public Library Foundation Board of Directors. He also serves on several other boards, including the Beth Israel Deaconess Medical Center, the East/West Institute, and Institutional Investor's U.S. Institute.
He received his Bachelor of Arts degree in political science from Syracuse University in 1980 and his MBA from the Harvard University Graduate School of Business in 1986.
Mr. O'Hanley is the third new director named to the Boston Foundation Board of Directors in 2013. He joins Paul W. Lee, a partner at Goodwin Procter LLP in Boston, and Dr. Myechia Minter-Jordan, the President and CEO of the Dimock Center, as new additions to the Board. They replace Atsuko Toko Fish, Kevin Phelan and Benaree Wiley, all of whom exited the Board in 2013 due to term limits.
******
The Boston Foundation, Greater Boston's community foundation, is one of the oldest and largest community foundations in the nation, with net assets of nearly $900 million. In 2012, the Foundation and its donors made $88 million in grants to nonprofit organizations and received gifts of close to $60 million. The Foundation is a partner in philanthropy, with some 900 separate charitable funds established by donors either for the general benefit of the community or for special purposes.
The Boston Foundation also serves as a major civic leader, provider of information, convener and sponsor of special initiatives that address the region's most pressing challenges. The Philanthropic Initiative (TPI), an operating unit of the Foundation, designs and implements custom philanthropic strategies for families, foundations and corporations around the globe. Through its consulting and field-advancing efforts, TPI has influenced billions of dollars in giving worldwide. For more information about the Boston Foundation and TPI, visit www.tbf.org or call 617-338-1700.