Boston – The Boston Foundation today publicly announced the addition of two new members to the Foundation's Board of Directors. Paul W. Lee, a Partner at Goodwin Procter LLP and Dr. Myechia Minter-Jordan, M.D., the President and CEO of the Dimock Center, joined the Board effective July 1, 2013.
"Paul Lee and Myechia Minter-Jordan are both people of immense talent who have invested themselves in improving the lives of people in Greater Boston," said Michael Keating, Esq., who serves as the chair of the Board of Directors. "Paul Lee has been tirelessly active in the Asian-American community on legal, justice and affordable housing issues. And Myechia Minter-Jordan has led the Dimock Center's determined efforts to increase access to care for the city's most vulnerable residents. They will provide valuable contributions to the Board and the overall work of the Boston Foundation."
Keating also acknowledged the naming of Claudio Martinez, the Executive Director of the Hyde Square Task Force, to a second five-year term. The Board of Directors bid farewell to three Board members on June 30. Atsuko Toko Fish, Kevin Phelan and Benaree Wiley are exiting the Board due to term limits.
About the new members: Paul W. Lee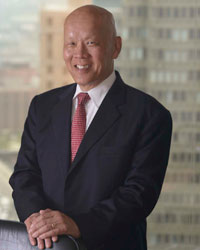 Paul W. Lee is a partner at Goodwin Procter LLP in Boston, where he concentrates on corporate and securities law and represents high technology and financial services companies. Paul has over 35 years of experience advising boards of directors and representing large and small public and privately held companies in connection with business, securities and M&A transactional matters.
Paul has served on the American Bar Association Board of Governors and is a 2007 recipient of the Spirit of Excellence Award from the ABA Commission on Racial and Ethnic Diversity. He is currently a member of the ABA Commission on Women in the Profession. He is a past president of the National Asian Pacific American Bar Association and the Asian American Lawyers Association of Massachusetts.

In August 2009 he was named a NAAAP 100 leader by the National Association of Asian American Professionals. Included in the inaugural class of six Asian American leaders were architect/designer Maya Lin, former Secretary of Labor Elaine Chao and playwright David Henry Hwang. He has also received the Good Guys Award from the Massachusetts Women's Political Caucus. Paul serves as Chairman of the Board of the Asian American Justice Center in Washington, D.C., and in Boston, he is Board President for the Asian Community Development Corporation. He is a past chair of the Massachusetts Asian American Commission, and is a 2013 Fellow in the Harvard Advanced Leadership Initiative.
Paul is a graduate of Columbia University (B.S., Electrical Engineering and Computer Science) and received his J.D., cum laude, from Cornell Law School, where he was an editor of the Cornell International Law Journal.
Dr. Myechia Minter-Jordan, M.D., MBA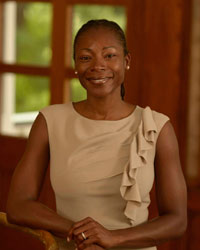 Dr. Myechia Minter-Jordan is the President & CEO of The Dimock Center, a community institution serving Boston's Roxbury, Dorchester, Mattapan and Jamaica Plain neighborhoods. As the second largest health center in Boston, Dimock is considered a national model of comprehensive health and human services with an emphasis on the integration of clinical and behavioral health practices.
Dr. Jordan earned both her undergraduate and medical degrees from Brown University. After graduation, she joined Johns Hopkins first as an attending physician and instructor of medicine at Johns Hopkins Medical Center and subsequently as director of medical consultation services at Johns Hopkins Bayview Medical Center. During her tenure, Dr. Jordan completed a Masters of Business with a focus on the Business of Medicine at Johns Hopkins School of Professional Studies.
In 2007, Dr. Jordan moved to Boston to become Chief Medical Officer for the Dimock Community Health Center. As Chief Medical Officer, Dr. Jordan was a fierce advocate for increasing access to care for some of the city's most vulnerable residents. Her collaborative approach led to significant partnerships linking Dimock to world-class institutions such as The Harvard Medical School, Beth Israel Deaconess Medical Center and Partners HealthCare.
Dr. Jordan lives in West Roxbury with her husband and two young daughters.
Photos of both new Board members are embedded in this release and are also available upon request.
******
The Boston Foundation, Greater Boston's community foundation, is one of the oldest and largest community foundations in the nation, with net assets of more than $900 million. In 2012, the Foundation and its donors made $88 million in grants to nonprofit organizations and received gifts of close to $60 million. The Foundation is a partner in philanthropy, with some 900 separate charitable funds established by donors either for the general benefit of the community or for special purposes.
The Boston Foundation also serves as a major civic leader, provider of information, convener and sponsor of special initiatives that address the region's most pressing challenges. The Philanthropic Initiative (TPI), an operating unit of the Foundation, designs and implements custom philanthropic strategies for families, foundations and corporations around the globe. Through its consulting and field-advancing efforts, TPI has influenced billions of dollars in giving worldwide. For more information about the Boston Foundation and TPI, visit www.tbf.org or call 617-338-1700.