The Linda M. Walczak Children's Literacy Fund at the Boston Foundation is committed to bringing the joy of reading to the children of Boston. Gifts made to the Fund in honor of Linda's love of reading and teaching will allow the Walczak family to support the work to which she dedicated her life. The Fund will help to bring cherished children's books and other literacy resources to students and families in need. Our goal is to continue Linda's mission of helping children learn to read, giving them the gift of language and the tools to be a lifelong learner.
Linda Walczak lived and worked in the Boston neighborhood of Dorchester. After growing up poor, Linda became the first in her family to go to college, graduating summa cum laude from UMass Boston. She later earned her Masters in Education and became a literacy teacher. For nearly 30 years, she spent her working life teaching in the Boston Public Schools, helping hundreds of children learn to read. She took special interest in her low-income students, hosting field trips and providing food and transportation. In retirement, she continued her work, volunteering to teach women in poverty through Project HOPE.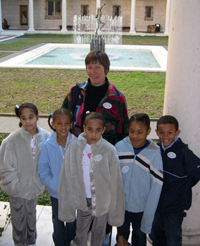 Teaching was more than a career for Linda—it was her passion. She designed experiences and curriculum for her students around seasons, Boston historical events, and interests of her own. Linda loved literature and collected children's books, sharing them with her students and friends. In addition to donating many of these books, the Linda M. Walczak Children's Literacy Fund will bring additional literacy resources to Boston's most vulnerable children.
Thank you for joining us as we continue Linda's legacy.
---
Gift Instructions
Thank you for your interest. You may make credit card donations using the form below.
To give from a Donor Advised Fund, please recommend a grant to "Boston Foundation, Inc." with the name of the fund in the grant purpose field.
To donate by check, make your check payable to "Boston Foundation, Inc." with the name of the fund in the memo field and mail to:

The Boston Foundation
PO Box 843027
Boston, MA 02284-3027
For wire or bank transfers, or to inquire about transferring other types of assets, please click here for a PDF of the fund gift instructions or contact our Fund Administration office at (617) 338-2213 or email fundadmin@tbf.org.