Boston EdTalks hits it out of the park | City of Ideas
Posted 05/24/2016 by James Burnett
On May 5, the Boston Foundation hosted the fifth annual edition of Boston EdTalks, an event that gathers teachers who make short presentations about the intersection of great strategy, passion, and relationships for and with their students. EdTalks celebrates great teachers and gives them a platform from which to share their innovative ideas, classroom practices, and solutions to challenges they face in their schools - schools that, for what it's worth, run the gamut from traditional public schools to charter and Catholic schools.

So the "it" in the title of this post? That "it" literally stands for what works.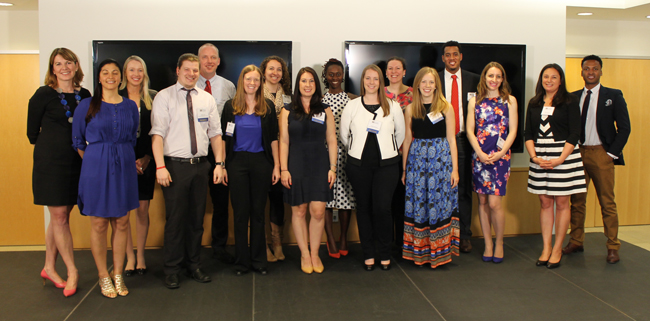 Caption L-R: Elizabeth Pauley, Senior Director Education to Career, The Boston Foundation, Katy Ramon, 8th Grade Math Teacher, Gardner Pilot Academy, Colleen Galvin Labbe, Kindergarten Teacher, Lee Academy Pilot, Jeffrey Parks, 3rd Grade Teacher, Everett Elementary School, Michael O'Halloran, 3rd Grade Teacher Everett Elementary School, Alice Laramore, 7th Grade English Language Arts Teacher, Lilla G. Frederick Pilot Middle School, Juliet Buesing, 10th Grade Humanities and 11th & 12th Grade AP English Language & Composition Teacher, Urban Science Academy, Katharine Atkins-Pattenson, 7th Grade Humanities Teacher, Gardner Pilot Academy, Jennifer Staysniak, High School History Teacher, Mount Alvernia High School, Newton, Abbey Dick, 10th Grade English & AP English Language and Composition Teacher, Malden High School, Caitlin MacLeod-Bluver, 9th & 10th Grade English Language Arts, Boston International Newcomers Academy, Marcus Penny, 7th & 8th Grade Science Teacher, Gardner Pilot Academy, Nicole Tabolt DaSilv, 9th & 10th Grade English Language Arts, Boston International Newcomers Academy, Maria Fenwick, Talk to Teachers, and Jeremy Collier, K-5 Music Teacher, UP Academy Holland.


This year's participants included 3rd-grade teachers Jeffrey Parks and Michael O'Halloran of Boston Public Schools' Everett Elementary School. Their presentation was titled "Empowering Mathematical Minds: The Making of Math Champions." Check out their video below.
But we wouldn't just tease you with a single video. If you want to see videos of the other teachers' presentations, including "The Think Space: Educating the Heart & the Mind for Success in the Classroom and Beyond," by Colleen Galvin Labbe, kindergarten teacher at BPS's Lee Academy Pilot, "What We Believe: Building Teacher-Driven Innovation through Collaboration," by a team of teachers from BPS's Lilla G. Frederick Pilot Middle School and Gardner Pilot Academy," and "What if? Targeted Literacy Instruction within a Rigorous Curriculum," by Jennifer Staysniak, high school history teacher at Newton's Mount Alvernia High School, visit this page on The Boston Foundation site, where you'll also find a single video of the entire Boston EdTalks 2016 event.
You'll find no lightweight material among these vids. These rock star teachers not only discussed intimate details of instruction strategies that are yielding results for them, they talked about using the alphabet to teach grade school children complex math, how to incorporate #blacklivesmatter into middle school curriculum, and how to inspire high school students to become entrepreneurs.
Enjoy! And if you're not already, please follow and like us on Twitter or Facebook.
Posted in