Precision Medicine | City of Ideas
Posted 07/08/2016 by Barbara Hindley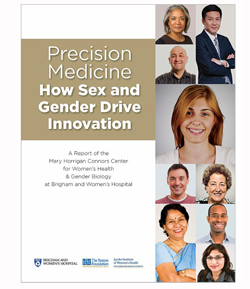 Last week, on June 30, the Connors Center at Brigham and Women's Hospital, with support from the Boston Foundation, released a report titled Precision Medicine: How Sex and Gender Drive Innovation. The report calls for the inclusion of women in medical research and the analysis of sex differences as a priority in Precision Medicine and other biomedical research frontiers. It's message is that incorporating sex and gender into medical research --in particular analysis of sex differences-- can drive innovation in biomedical research, and asserts that current biomedical research overlooks the significant evidence that sex/gender impact disease.

"The Boston Foundation is honored to have played a role in producing this trailblazing report," said the Foundation's President and CEO Paul S. Grogan. The Foundation also supported a 2014 Connors Center report, Sex-Specific Medical Research: Why Women's Health Can't Wait, which drew national attention to the importance of including women in medical research and taking sex into account when analyzing results.

Both reports were written by authors from The Mary Horrigan Connors Center for Women's Health and Gender Biology at Brigham and Women's Hospital, a national leader in advancing gender-based research, and from the Jacobs Institute of Women's Health at the George Washington University Milken Institute School of Public Health.

Paula Johnson, MD, MPH, President of Wellesley College, former Executive Director of the Connors Center and co-author of the report, said, "Our report illustrates that a comprehensive understanding of sex and gender differences can drive innovation and better outcomes for both women and men. Precision medicine will only be a success if the medical research it is based upon includes analysis of sex and gender differences."
Posted in