DAF Where the money goes | City of Ideas
Posted 01/29/2014 by Paul S. Grogan
Rather than a single endowment, the Boston Foundation has more than 1000 separate funds – including our unrestricted endowment fund, The Permanent Fund for Boston. The Boston Foundation uses a percentage of that endowment each year to provide between $16 and $18 million dollars a year in discretionary grants to nonprofit organizations. When the Foundation makes its major quarterly grant announcements, those funds come largely from the Permanent Fund.
The Foundation also manages hundreds of designated funds – targeted for the support of specific organizations, and field-of-interest funds – which are restricted to a specific area of focus. But the largest share of our grants these days – nearly $70 million in the 2013 calendar year, come from our pool of donor advised funds. Our hundreds of donors use the knowledge, research and other assistance from the Foundation to decide each year where their funds should go. We do a lot of the legwork and paperwork – but our donors get to take the active role in their philanthropy.
People familiar with donor advised funds know well the differences between DAFs and private foundations – DAFs have no required payout, no excise tax, and none of the annual paperwork a private foundation requires. Instead, DAF donors pay an annual management fee to the Boston Foundation, money which is put back to the community as it funds our operations.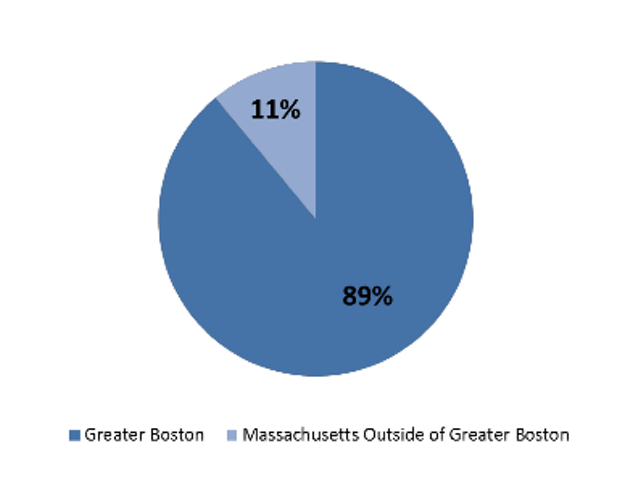 DAF donors can choose to give their funds to nonprofits anywhere in the U.S. or elsewhere around the world – but Boston Foundation donors, we know, are here largely because like the Foundation they care for Greater Boston. An evaluation of our 2013 DAF gifts found nearly 70% of our DAF gifts were given to Massachusetts organizations, and of that amount, 89% went to nonprofits in Greater Boston, supplementing and complementing our discretionary grants.
The impact of our donors is remarkable. We looked back in one of our five program areas, the arts, and found that Boston Foundation donors have put about $90 million into the arts over the past decade – a much larger amount than we could have invested with our discretionary grants alone.
Critics of donor advised funds lhave sometimes suggested they take money out of communities. Instead, what we find is that these funds give donors an opportunity to make informed, consistent investments in their communities – to organizations large and small, well-known and unknown, old and new. Donor advised funds may not be the best known part of the Boston Foundation, but their impact on community cannot be overstated.
Posted in