Giving Tuesday and beyond | City of Ideas
Posted 11/27/2013 by Paul S. Grogan

Both the Boston Foundation and the Philanthropic Initiative are preparing materials to help interested individuals, families and corporations move their philanthropic conversation forward this holiday season – and that conversation can take on many forms. Have a lot of young children in your home for the holidays? Seek out ways to volunteer, whether for a day or as part of a broader commitment. Looking for ways to broaden your impact? Talk as a family about the causes you value, the issues you want to address, and the community you want to support. You may find that this "dinner table philanthropy" leads to a broader agreement across branches of your family tree than you realized – and working together you can find ways to strengthen your impact.
Many companies use the holidays as a way to highlight corporate philanthropic efforts, such as matching grant programs. But as my colleague Jamie Jaffee, Managing Partner at The Philanthropic Initiative noted this week, the most powerful corporate philanthropy captures the heart and culture of the organization and begins a year round strategy that can capitalize on both internal and customer community involvement.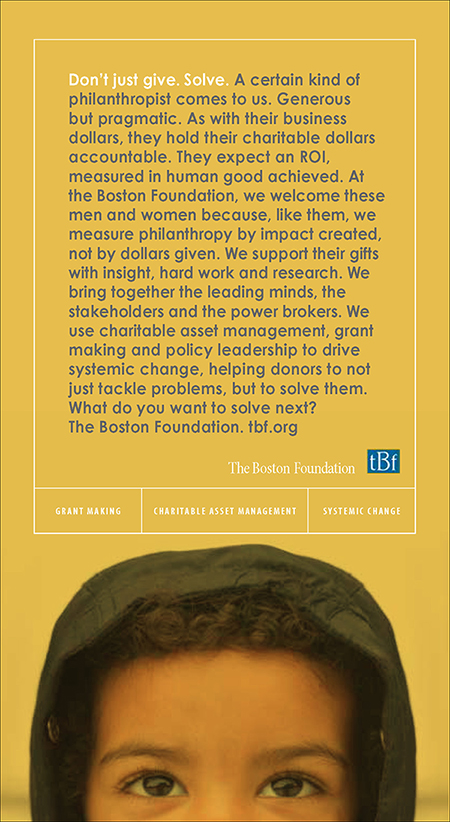 Both the development and donor services department at the Boston Foundation and the Philanthropic Initiative have a number of resources for donors who want to make Giving Tuesday the beginning of a broader opportunity to help organizations you care about. Our Donor Solutions Center on TBF.org compiles a number of articles we have written recently about aspects of giving – from the tax implications to the myriad opportunities. The new 2013 Annual Report of the Boston Foundation highlights not only a number of remarkable people and organizations address challenging issues in education, health and more in Greater Boston, but also recognizes donors whose strategies for changing lives are making a difference here each day.
In 2012, the Boston Foundation established the Giving Common – a constantly-updated resource for donors to access data on nearly 1,000 Massachusetts nonprofits, their programs, services, finances, and impact. It's a free resource that can help you become a more data-empowered donor.
And the Philanthropic Initiative website is full of resources to help you structure the conversation and explore issues such as global philanthropy – all at tpi.org.
If those resources inspire new questions - pick up the phone or send an email to our Development and Donor Services team and we'll be happy to help or start a conversation about building a broader sense of philanthropy.
While we think with our donor advised funds, strategic philanthropic services, and uniquely local research and knowledge we are an ideal partner for you – we are also part of the broader, uniquely American institution of philanthropy, which gives an estimated $300 billion each year to nonprofit organizations. Whether you seek our help, use our resources or make your own philanthropic decisions, we hope you'll seize the day on Giving Tuesday, and think of it as the beginning of an effort to seize the other 364 and make a difference.
Giving Tuesday is important. But what you do Wednesday could have an even broader impact.
Posted in