College costs and benefits | City of Ideas
Posted 11/07/2013 by Paul S. Grogan
"Education is the most powerful weapon which you can use to change the world." -Nelson Mandela
Here at the Boston Foundation, there is no question that we see education as a key strategy for building and sustaining a vital, prosperous city and region, where justice and opportunity are extended to everyone.
Last month, as part of "College Month", the Boston Foundation and the Boston Private Industry Council sought to drive that point home with Boston Public Schools students, distributing more than 17,000 "palm cards" listing the potential lifetime earnings a college degree could provide, and highlighting the world of opportunity that higher education allows a student to access post-graduation.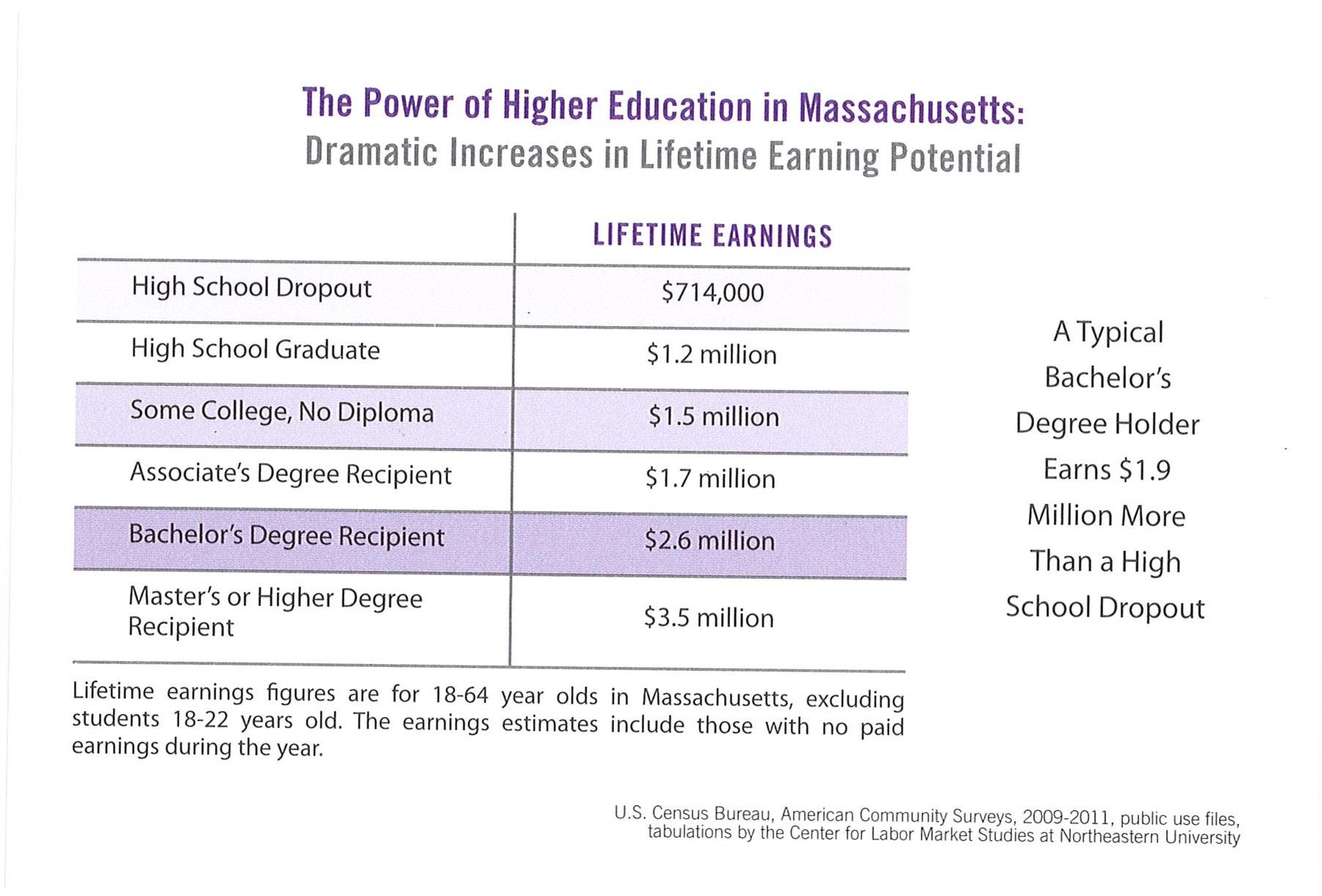 Need a reason to complete college? This little card contained 1.9 million of them – the $1.9 million in increased lifetime earnings a Bachelor's degree holder can expect relative to a high school dropout.
Of course, for many students that statement comes with an asterisk – *if you can manage the short-term challenge of college affordability.
That reality was driven home yet again yesterday, as the Boston Foundation hosted a public release event for the second annual report by the Vision Project – an effort by the Massachusetts Department of Higher Education to measure the success of the higher education system. Three college executives - President Ira Rubenzahl of Springfield Technical Community College, President Barry Maloney of Worcester State University and Chancellor Marty Meehan of UMass Lowell – unanimously highlighted the ever-growing challenge their students face to afford the education they will so sorely need to succeed in a knowledge-based economy.
The Commonwealth's Commissioner of Higher Education, Richard Freeland, captured the challenge simply – low state funding compromises quality, and the resulting higher tuition and fees compromise affordability. But there are myriad factors that drag down students, especially lower-income students, from completing their degrees.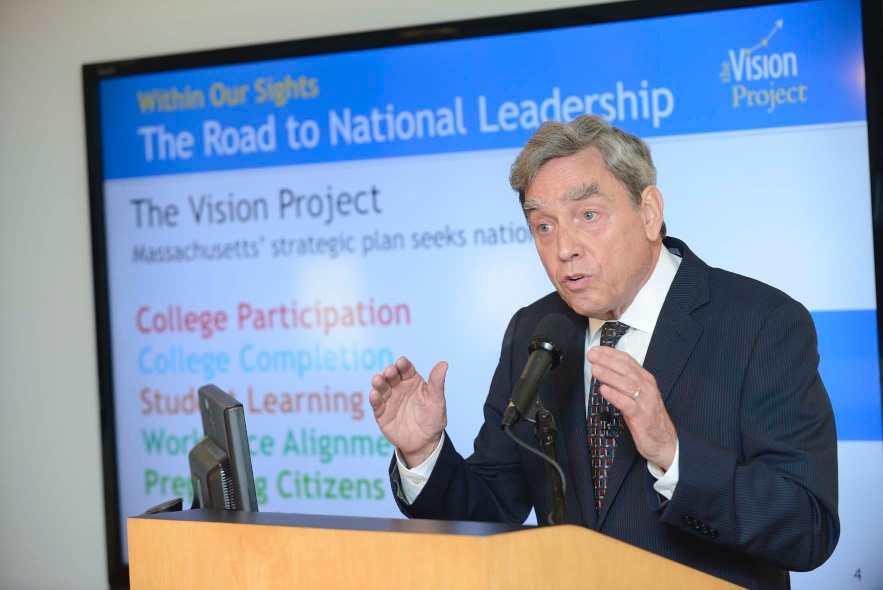 The first factor is one that drags students down before they even set foot on campus – the quality of their high school education. Today, the Vision Project reports that an estimated 60 percent of students enrolling in Massachusetts community colleges are placed in developmental, or remedial, classes in at least one subject area – classes they must pay for and complete before they can begin credit-bearing work toward their degrees. That's money out-of-pocket, or loan dollars spent, even before the student embarks on a journey to college completion.
It's no wonder that students who take a remedial class are more likely to drop out, and students who take two or more remedial courses are even further back.
But sometimes, it's other things that put students on the course to dropping out – things as simple as subway fare, as central as the need to balance coursework with supporting a family, or as complex as the challenge of navigating the paperwork of a higher education system that proves to be the tipping point for an individual student.
The college presidents themselves, as well as the thoughtful questions from the audience, made it clear that they see the scope of this problem – and our work with the City of Boston, the Boston Public Schools, UMass Boston and dozens of other colleges and organizations including the Boston PIC has us hopeful we have an eye toward a solution.
Yesterday the Boston Globe published an op-ed I co-authored with Keith Motley, the Chancellor of UMass Boston, that highlighted our work with these partners in Success Boston, an initiative founded by Mayor Thomas Menino as part of his laudable effort to double the college completion rate for Boston Public Schools graduates to 70 percent by 2017.
As I have written before on this blog, there are signs that this model of providing stronger, more comprehensive support structures to Boston students is working. But it's work in progress – work we hope and expect that will continue under Mayor Marty Walsh.
And our work must continue beyond school. While we work to better prepare students for the jobs of the future, we must make sure job opportunities exist for young people – summer jobs when they are in school, and full-time when they graduate. Ultimately, the opportunity gap won't just be solved (needed) increases in state funding, (needed) investments in keeping college affordable and (needed) efforts to make college graduation a reachable goal. Our newly-minted graduates will need the jobs that make paying back into this virtuous circle more possible.
The Boston Public Schools students to whom we gave those cards now have 1.9 million reasons to complete college. We have an equal number of reasons to give them the means to do it – and ensure there is something more than loan repayments awaiting them on Graduation Day.
Posted in