Teacher Appreciation and Charters | City of Ideas
Posted 05/09/2013 by Paul S. Grogan
Monday night, the Boston Foundation was pleased to welcome Eddy Cremata of Stanford University's Center for Research on Education Outcomes to review the organization's research into charter schools in Massachusetts and Boston. You may be familiar with the report, which was published at the end of February, but to summarize the main findings, the Center found that the average student in a Massachusetts charter gets the equivalent of about 2 months extra learning each year than he or she would in a traditional public school.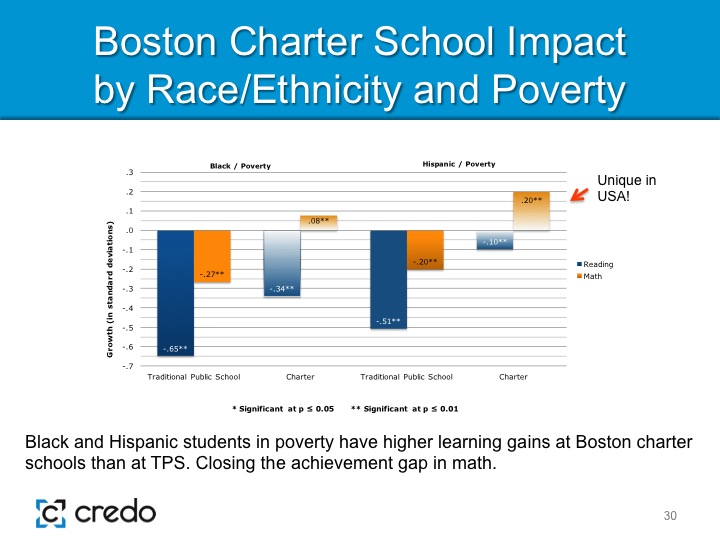 For Boston, the results were eye-opening, to say the least. CREDO, which carefully matched charter school students with their peers in traditional public schools, found the average Boston charter student gets an extra year of learning each year compared to peers in traditional Boston Public Schools. "Boston is the standard by which all charter school efforts around the country should be judged," Cremata said, noting that Boston is the only district CREDO has ever studied where charters aren't just limiting the achievement gap for Black and Latino students in poverty – they are closing it.

Those things don't just happen – they require structures which allow principals and teachers who work with kids every day the autonomy and added instructional time to really focus on their students' needs.

And they require great teachers.

In other posts, I have talked about the need to lift the charter cap in Boston and other cities and expand autonomous schools, so I won't go over those arguments again here. But I will note that Boston charters don't have a monopoly on quality teachers. Visit some of the state's turnaround schools, like the nationally-recognized Orchard Gardens K-8 school in Boston (most recently featured on NBC Nightly News), and you will find exceptional teachers and administrators who have taken a school long considered a place no one wanted to send their kids and made it a model of school change.
Visit NBCNews.com for breaking news, world news, and news about the economy

Because they had the freedom to do it.

As a turnaround school, Orchard Gardens teachers and administrators were given greater control over hiring, curriculum and the length and structure of the school day than the vast majority of schools in Boston. It was no prize – it happened because as a Level 4 school, Orchard Gardens was seen as failing its community and its students. The turnarounds as a group are outperformance those schools seen as Level 3 statewide, and in some cases the difference is marked. That's why on Tuesday, when our Race to the Top Coalition went to Beacon Hill to urge passage of "An Act to Further Narrow the Achievement Gap" we weren't just talking about charter schools. We were talking about autonomy.

It's autonomy that charters have been able to seize upon to create a system where students perform better, demand is through the roof, and teachers are happier. It's autonomy that allows for the changes in the school day that give teachers the time to teach creatively, the time to plan effectively and the time to collaborate professionally. Don't get me wrong – there is no single solution that can fix urban schools in a single bound. But what the autonomy allows that get lost in union-district talks is a laser-like focus not on dozens of workplace provisions but on kids. Autonomy creates an environment where kids can learn – and where teachers can teach.

To witness some of this remarkable work in action is truly inspiring – to see schools that are beacons of promise, often in neighborhoods that need that promise more than anything. And at the center of it are great teachers.
As I write this, the Boston Foundation is preparing to host our second-ever "Boston Ed Talks – Strengthening the Education Pipeline: A Classroom View of Reform". It's an opportunity for members of our Teacher Advisory Panel to present their thoughts, TED-style, to an audience of their peers, administrators and others with an interest in education.
You can listen in, as well (or if you missed it, watch it on video) on the TBF Ustream page. I have had the great privilege of talking with this year's panel members on a number of occasions – and know this will be a night worth noting.

During this Teacher Appreciation Week – be sure to say thank you. And next week, say it again, because teachers deserve our thanks every week, just as they deserve to be provided the best possible places in which to practice their profession.


Posted in