High school college and need to succeed | City of Ideas
Posted 05/23/2013 by Paul S. Grogan
The researchers examined the impact charter attendance had on a student's performance in their high school years and their college choices, and found that charter students were more likely to pass the MCAS, more successful on the SAT and more likely to take and score well on Advanced Placement tests than their peers who didn't get into charters. The same basic results held true for special education students at the charters.

But beyond college readiness, there were two measures of college opportunity that struck me. First, the charter students were more likely to score well enough on the MCAS to earn an Adams Scholarship, which covers a student's tuition at a Massachusetts public college. To be fair, tuition is just a piece of a student's cost of college – fees make up the majority of expense. But the Adams sends a powerful message.

Secondly, the researchers found that students in charters were more likely to go to college, particularly to four-year public colleges, than their peers who didn't attend charters. And that brings me to the second part of the story.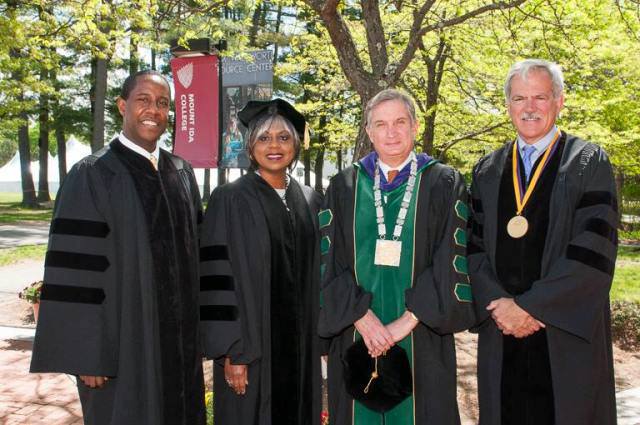 Last Friday, I had the opportunity to receive an honorary degree from Mount Ida College in Newton, Massachusetts. It's a small school in a tony suburban area, small enough that you might not even notice the entrance as you drive by. But on the campus, about 1,500 students, more than 40 percent low-income, more than 30 percent minorities, are working toward graduate and undergraduate degrees.

And what makes many of Mount Ida's graduates most special is that for many of them – about a third, they are the first in their family to attend, never mind graduate from college. As we move forward in the 21st century economy, post-secondary credentials are no longer an option – they are a requirement for almost all jobs that can provide self-sufficiency. In an economy that rewards preparation but punishes those without training, we must strive to ensure there are more students leaving high school demonstrating their readiness for college, and then give them the tools and support these first-time college-goers need to get into and through higher education.

Charters help prepare students. Colleges like Mount Ida reach out to students striving to make family history. And programs like Success Boston, a partnership of the Boston Foundation, the Boston Public Schools, Mayor Thomas Menino and dozens of college and community partners, provide the support that students need to navigate the tricky waters of collegiate life.

If we have learned one thing in decades of trying to improve schools and student performance, it is that there is no single path to success, no magical program that will lead to success for all students. But we also know that waiting until change becomes easy or politically palatable costs generations of students their opportunity.

We see charters as a powerful piece of school improvement, but it is just one piece. High-stakes college readiness tests like the MCAS and SAT indicate a student's preparedness, but they are no guarantee. Success Boston can provide an unequaled breadth of support for students in surviving the academic, social and financial challenges of college, but it can't solve all the problems.

Which brings us back to the students. Visit Mount Ida, Suffolk, Northeastern, Bunker Hill Community College or any of the other Boston-area colleges and universities this graduation season and you will find thousands of stories of individual achievement - the vast majority of whom are not 22-year-olds who have moved from kindergarten to college graduation in an unbroken line.
Ultimately, it is their work and perseverance that lead them to and through college. We support their efforts, highlight those solutions that improve their chances, and celebrate their successes.
Posted in