Life Sciences and Investing in Our Future | City of Ideas
Posted 03/26/2013 by Paul S. Grogan
The Center, which was charged with implementing the Massachusetts Life Sciences Initiative, gets high marks for using $300 million of that money thus far to drive sector growth through loans to early stage companies, grants to support industry-academic research collaborations, cutting edge infrastructure investments, growth incentives, workforce training, and internships that help smaller companies access Massachusetts workers. According to the research, the tax incentives alone have created more than 2,500 jobs and will generate an expected $266 million in wages and salaries over the next five years.
But what has made the investment work hasn't just been the money, it's been the comprehensive, integrated strategy that has driven the investments, including the thoughtful analysis of funding requests by the Center's Board of Directors and Scientific Advisory Board, the requirement that businesses put up matching funds, and 'clawback' provisions that allow the state to revoke tax incentives if businesses don't deliver on their promised jobs.
It's that sort of collaboration that the Boston Foundation hoped would come about in 2005 when we funded the establishment of the Massachusetts Life Sciences Collaborative, working with the Massachusetts Technology Collaborative to create a shared strategy for life sciences in Massachusetts. The Collaborative was a cross-sector working group including leaders from academia, research, business and government, and in March 2007, it was where the newly-minted Governor Patrick announced his goal of reversing restrictions on stem cell research, and hinted at a major initiative to come. "We are committed to full engagement with the Life Sciences Collaborative and other stakeholders," he said, "and to sharing ideas and expertise so that government can get out of the way and allow imagination and creativity to have full range."
A few months later, the Governor publicly announced his Life Sciences Initiative, and in June 2008, the Legislature passed it. Today, nearly five years later, Governor Patrick held out the Life Sciences Initiative as a bold investment in the future that is reaping benefits for the state, and it is hard to disagree. It was an initiative that took political courage for both the Governor and the Legislature, and it is worthy of being recognized as such.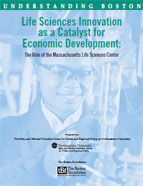 The research by Barry Bluestone and Alan Clayton-Matthews conducted suggests two other features of the life sciences sector worth noting. The first is the way that it fosters a culture of innovation where small start-up companies are nurtured to convert their research into marketable products and services. That innovation then attracts bigger players who can invest in or acquire smaller firms as part of their growth strategy. As Bluestone and Clayton-Matthews put it, since even the largest firms are limited in the number of breakthroughs they can make on their own – by being near these clusters of innovators, they get a leg up on their possible competitors.
But a second, critical point, and one that may surprise some, is that the life sciences sector creates jobs across all educational levels. Barry Bluestone noted this in his presentation this morning – of the jobs in the life science cluster – 30 percent require an Associate's degree or less. Another 32 percent require a four-year degree. In an economy that is just as quick to punish those without education as it is to reward the education of others, it is notable that there are jobs in this sector where an investment in education can pay quick dividends.
As we have long noted in our work for community college reform, community colleges can play a critical role in providing the skills for Massachusetts students to move into the workforce or on to higher education. This report only further underscores that potential.
Looking out at the audience today was a great opportunity to see potential fulfilled. Nearly eight years after the Foundation invested in strengthening the ties that bind the diverse pieces of our life sciences sector, this report showed the power of a coherent strategy for job creation and business development.
It also underscored the potential that remains – and the impact that smartly investing in our future holds. It's true in the case of life sciences, where more opportunities remain, and in many of the other seemingly intractable problems we face moving forward.
Posted in