Fairmount reflection | City of Ideas
Posted 07/24/2013 by Paul S. Grogan
And last week, I joined dozens of community activists, civic leaders, Mayor Menino and Governor Patrick at the new Four Corners/Geneva MBTA station to ceremonially cut the ribbon opening the station - one of three new stations dedicated on that day, as the T expanded its commuter service to areas of Boston that had lived without rapid transit for decades.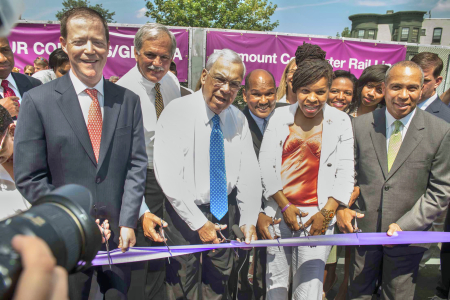 Before this month - instead of a 12-minute rail trip to South Station, residents of Four Corners had only one option – an hour-long ride to downtown, through congested streets on crowded buses. On the surface, a 45-minute travel difference may seem nothing more than an inconvenience, but for workers, residents and businesses it's an inequity that has put the brakes on economic opportunity.
For decades, community leaders in neighborhoods along the Fairmount Line, with the support of the Boston Foundation, have advocated for transit equity – available transportation options that mean access to jobs, and opportunities for businesses. But getting the Line established, while a great victory, is just one step in a longer process. Now, the MBTA must work with the community to build ridership – which it has started with the agreement to match $2 subway fares for the Fairmount Line through Roxbury, Dorchester and Mattapan.
But we must go further. The Fairmount Line provides a critical opportunity to drive transit-oriented affordable housing, bolster local neighborhood economies, make families more self-sufficient by creating jobs and providing training and support systems, and create vibrant communities through investments in arts and culture. These are investments that the Boston Foundation has been undertaking for years – and that work will only accelerate.
At last week's event, I had the honor of pledging the Boston Foundation would invest $10 million in programs along the Fairmount Line in the next four years. Personally, I hope it's a lot more. A new study released this week and featured prominently in the New York Times finds Boston is one of the most economically mobile cities for children who grow up in poverty – but even so, just one in ten Greater Boston children who grow up in the bottom fifth economically are able to rise to the top fifth years later.
We can do better. And we can take to heart the factors that researchers found correlated with increased rates of economic mobility. Better elementary and high schools, stronger families, more engaged communities, and stronger linkages among lower-income and middle class residents were all found to play a role in improving economic mobility.
We have some obstacles to overcome. Boston is a place where education leads to rich rewards, but punishes those without it. We have one of the largest economic gaps between rich and poor in the country. And like many urban areas we face the challenge of violence, the burden of obesity, and the difficulty of providing affordable housing. But we are also fortunate to be a place with unparalleled academic resources, from our world-class universities to a system of charter schools which is among the best in the nation and is providing innovations upon which all of our public schools can build. We benefit from our location on not one but two world-class waterfronts. We have capitalized on the innovation economy.
We have a great deal we can bring to the neighborhoods of the Fairmount Line – and we have pledged to do it.
The train now stops at Newmarket, Upham's Corner, Four Corners, Morton Street, Talbot Avenue and Fairmount – 20 times every weekday. But the work is just getting started.
Posted in