Donor Advised Funds | City of Ideas
Posted 12/19/2013 by Paul S. Grogan
Both foundation-based and institution-based donor advised funds allow donors to deposit money in a charitable giving account and then give it to nonprofits over time, much like a private foundation, but without the overhead and legal requirements that running your own foundation entails. In exchange for an administrative fee, we (or any other fund manager) handle much of the paperwork, and allow the donors to focus on what really matters, finding the nonprofit investments that resonate with them and the needs they wish to address.
But to be truly effective, we strongly believe we at the Boston Foundation must do more than steward investments. And this is where we move beyond what our for-profit colleagues offer. The Boston Foundation invests millions of dollars each year in research, donor services and support to ensure that our donors aren't just giving, but that they feel they are giving wisely. That takes time for both our staff and our donors - to thoughtfully research, develop strategies, and create giving that can have the greatest possible impact. The difference between giving quickly and giving wisely isn't just numbers on a spreadsheet - it can mean lives saved or lost, lives changed or forgotten.
For those who wish to truly get beyond the basics with their philanthropic strategy, the Boston Foundation offers a service unique to us as a community foundation. Through our merger with the Philanthropic Initiative, Boston Foundation (and non-TBF) donors can contract for philanthropic consulting services with TPI. The Philanthropic Initiative provides an array of strategic support for corporations, families, foundations and individuals - on topics ranging from strategy development, to intergenerational giving to corporate philanthropy to program impact analysis.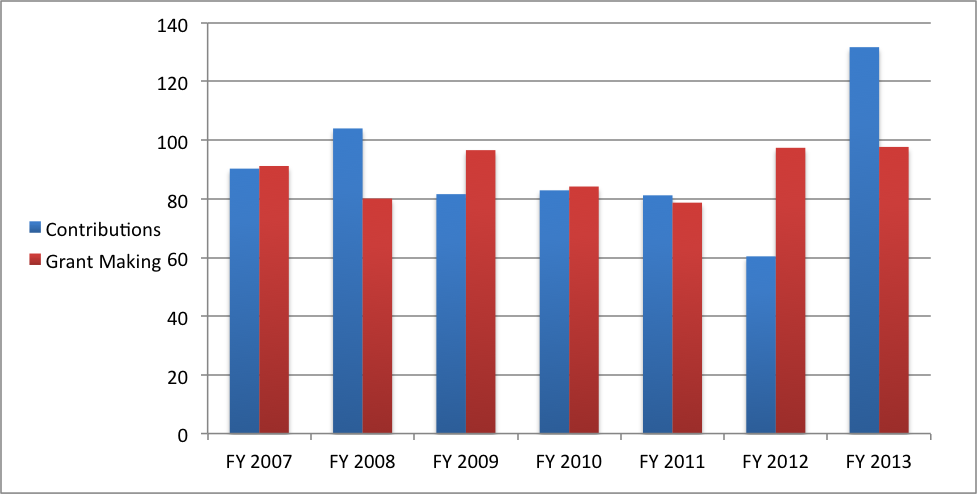 The ability to gift into a fund and then donate over time has another impact that is often overlooked - but evident in this look at the Boston Foundation's gifts received and donations distributed in the years leading up to and through the Great Recession. Not surprisingly, gifts (the blue bars) rise and fall with the economy, but donations (the red bars) remained strong throughout the recession, right when those funds were needed. Nationally, the National Philanthropic Trust found that the payout rate from donor advised funds, which averages triple the mandated payout rate of private foundations, peaked in the hardest years of the recession at over 18 percent. Ask nonprofits about the kind of donations that help them most, and they will tell you that regular, "sustaining" contributions that can be applied toward general operations are both the hardest to raise and most critically needed. Donor advised funds provide the right kind of disciplined support for these organizations to do their work.
Community foundations play a critical role in this life cycle of donor advised fund giving - with the vehicles for funds, the research and community experience to ensure donors have the knowledge to give smartly, and the services and education components to enlighten donors about their communities and evaluate the impact of their grant making. At the Boston Foundation, donor advised funds are doing much more than "waiting" - they are part of a long-term strategic philanthropic effort that serves to empower donors and provide stable, effective funding for our community, and nonprofits around the world.
To tinker with this key part of the uniquely American institution - our philanthropy - is a gamble we can ill afford to make.
Posted in