Charter schools about the kids | City of Ideas
Posted 08/19/2013 by Paul S. Grogan
Almost a decade later, that list of evidence has become a tidal wave – report after report that shows students in Boston and Massachusetts charters are being better served by their schools and better prepared for the future.

But today, as in 2004, we are faced with an artificial cap that keeps students who deserve the best possible public education from receiving it. Tens of thousands of students waiting while groups with an interest in the status quo, despite its evident failings, block charters in particular and reform in general.

When we play politics with charters, we miss the point. It's about justice. It's about providing the best possible public education to all of our children – in a timetable that serves them. Not politicians. Not unions. Kids.

For decades, the Boston Foundation has funded (and will continue to fund) numerous efforts to support and improve our public schools. That support is a core piece of our role as a community foundation – and it will remain that way. We partner with the City of Boston and the Boston Public Schools on initiatives like the Boston Opportunity Agenda, Success Boston, the Boston Arts Expansion and many more out of a fundamental belief that ALL Boston students deserve the access and support they need to get the best possible education.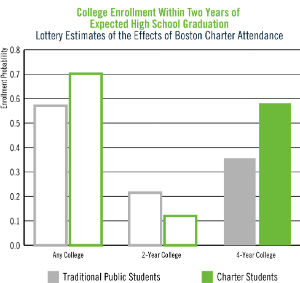 And it is in that spirit of social justice – the belief that all kids deserve the best possible education – we have urged the growth and expansion of charter schools in Boston and in Massachusetts. Research, both our own and that done by others at MIT, Stanford and other institutions, find that schools given greater autonomy in Boston and Massachusetts are doing a better job preparing their students for life after school. They score higher on tests. They matriculate to higher education. They do all the things that we want all of our students to be able to do to become successful in life.

What has been most impressive for the charters, however, has been the pace of change. While we have seen the Boston public schools get bogged down in contract talks, the charter schools are innovating and educating students. And when you look at the best practices being adopted in public schools throughout the country – they are practices proven in autonomous public schools, like public charter schools.

Students and parents in some of Boston's most challenged neighborhoods have noticed. That's why there are 16,000 students on charter waitlists in Boston, nearly 30 percent of the total number of students in the Boston Public Schools. Yet this month, when the state Department of Education announced 10 groups were moving ahead with applications for new charters – but none were in Boston. Why? Because there are no seats left. Under the current charter cap – Boston can't add any new charter seats.

And the forces of complacency argue that is just fine – charters are working but we need to fix the rest of the schools. Tell that to a student in Dorchester who can't get into a charter school. Tell it a charter middle school student being told they can't stay in a charter public school for high school because there are no seats. It's not that we shouldn't fix the district school – but while we negotiate contracts, while interest groups drag their feet – thousands of students are being denied equality. They are being denied justice. And their futures are being put into jeopardy.

The data show unequivocally that in Boston, charter public schools work for students. Lifting the charter cap doesn't change that. Instead, it allows charters to serve a wider range of students – to develop the critical mass to serve more low income and minority students who are being left behind in the current system.

"Charter public schools were not created to engage in a tug of war over money and power. They were created to improve public education for all students," I wrote in 2004 – and could write again today. "And they have."

Public education is a moral commitment to provide the best possible learning environment for all students – in public charter schools and traditional public schools. We believe there is a two-track strategy to improve both – but to let an arbitrary cap block the expansion of successful schools serves no one.

What if it were your child?
Posted in